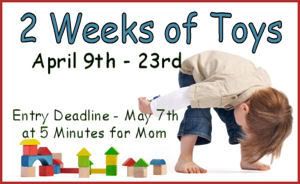 From

5 minutes for Mom
Life is short. Every day our kids grow a little bigger. So let's seize the moment and celebrate the early years. Yes - it is time to PLAY!
For the next two weeks, They will be going toy crazy at 5 Minutes for Mom. They will be featuring an assortment of toys for a variety of ages. They will have toys for babies, preschoolers and grade school kids. For the next fourteen days, the rule is FUN!
To enter the giveaways you just need to:
Add a comment on the giveaway you want to enter. PLEASE note: You need to enter each giveaway individually so we know who wants to be entered in what giveaway. So make sure you click over to each giveaway and leave your comment there.
Either link back to thier post and include a "2 Weeks for Toys" Giveaway button in that post or on your sidebar (to get the code scroll to the bottom of this post,) or link to the individual giveaways you choose to enter. (If you post and include the button, either in your post or on your sidebar, and link back here, you are good for all the giveaways. No more linking required.)
As always, non bloggers are welcome to participate! They understand you can't link - but please spread the word to your friends.
Some giveaways may be open to Canadian shipping addresses. Please check individual giveaways.
CLICK ON ON OVER TO 5 MINUTES FOR MOM BY CLICKING ON THE BUTTON ABOVE
then click on the giveaways you want to enter
PLEASE REMEMBER

:
They will be linking to all of the giveaways in thier post and need to know who wants to be entered in WHAT giveaway. Remember you can enter in as many of the giveaways as you want.
PLEASE NOTE

:
Entries for all giveaways will be closed Wednesday, May 7th at 5pm Eastern and winners will be announced in the afternoon of Friday, May 9th.
Make sure you check back at "
5 Minutes for Mom
" on Friday, May 9th to see if you won a prize. They will be emailing you as well and you will have one week to claim your prize. If they don't hear back from you, they'll have to give the prize to someone else, so you might want to keep an eye on your junk mail folder.
But to be sure check back at "
5 Minutes for Mom
" on Friday, May 9th.